Trail Map Legend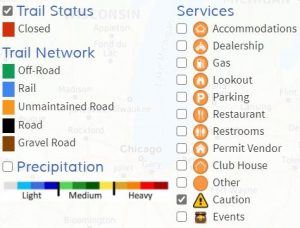 If the web browser on your smartphone has the GPS enabled, while on the trail and you browse to this page and press the Location

icon.
Click on Map to get the most up to date trail status regarding what trails are open or closed
Better yet, get the QUADON app for your mobile device today!
JATV Trails Map Overlay for your mapping Garmin GPS!
To download the JATV Trails Map Overlay for your Garmin mapping GPS, simply right click on the "JATV Trails Map Overlay" button below and select "save as" and save it locally on your computer or directly to your Garmin mapping GPS's "Garmin" folder.The downloaded map "img" file can be copied to your mapping Garmin GPS into the "Garmin" folder on either the internal memory or the external memory (SD card) (a.k.a. Removable Disk) of your GPS device. Sorry, this file will not work on any other GPS type.
JATV Trails GPX File for most GPS!
For users who prefer to use a GPX file for compatibility with most GPS units, please download this GPX file. You can use your GPS's software to upload it to your GPS receiver or in some cases simply copy it to the GPX folder on your GPS receiver directly.