Membership matters!
Thanks for looking into how to join the club. Johnstown ATV Club (JATVC) is affiliated with the OFATV. By joining the OFATV and selecting us as your club of choice, you will become a member of Johnstown ATV Club.
ATV trails are not free. Every year the JATVC collaborates with many private land owners to create and maintain a superior ATV trail system within our region.
Your new or renewed OFATV Membership is much more than just a trail pass. Joining an OFATV club gives you the opportunity to shape the future of the sport and participate in the development of a province wide trail system.
Up to 75% of your membership dollars are used to build and maintain ATV trails in the area in which you chose to sponsor when you purchased your membership. This is why it is extremely important to "buy where you ride? The remaining 25% pays for government taxes, (HST) liability insurance, government lobbying, and helps to cover the operating expenses of the OFATV.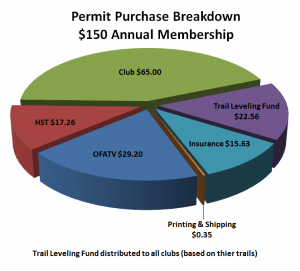 It is our pleasure to invite you to become a member of the JATVC and the OFATV.
Membership Cost
For those wishing to try our Johnstown's ATV Club trails without buying a full one year membership an OFATV DAY PASS is available to purchase from our Clubs website store or from one of our local vendors listed below. These day passes from our local vendor are in the form of a plastic-coated paper bracelet and orange in colour that has a permit number and a date, and are only valid for the day indicated and are to be only used on Johnstown's ATV Club trails. You are welcome to purchase day passes as often as you wish. Please attached the orange day pass bracelet on the left-hand side of the machines handle bar or roll cage while you ride as you can be asked by our many Trail Wardens or OPP to provide proof of purchase. For the electronic day passes purchase from our Clubs website store please make sure you are able to retrieve it from your smart phone or print off a copy and carry it with you.
The Day Pass: $20 per ATV or Side x Side including tax.
Individual Memberships:
First Year: $150 ($132.74 + tax)
**If the membership is renewed before it expires, the member will receive the Membership Loyalty Discount and the cost of the renewed memberships will only cost $125 ($108.75 + tax) for the year. (Must be renewed online only)
Family memberships & applicable rules:
1. The Memberships must all be purchased at the same time and are Not available online. You must contact a member of the Club to inquire about purchasing the Family Pass. All family members must reside in the same household (Same address) and be able to prove it to the Club with a valid ID (Drivers license, or anything current with a name and address on it).
2. The cost for memberships 1 & 2 is $150.00 each (Includes HST)
3. The cost for subsequent memberships is $100.00 each (Includes HST)
4. Each Family member is a full member of the OFATV with all the rights and privileges of any OFATV member in good standing. This includes the OFATV's reciprocating agreement with the NBATVF and PEIATVF whereby we can ride any NBATVF and PEIATVF trails & vice versa.
5. Each membership comes with 1 trail access pass which must be permanently affixed to the left side of the ATV or Side x Side to be valid, preferably towards the front of the machine.
How to Join or Your Renew JATVC Membership
There are three means of joining the JATVC:
1) Annual Membership or a 3 Day Pass can be purchase On-line at the OFATV Website Membership page: Click button below
2) To pay by cash please visit any Local Vendor or contact the Club:
a. Day Pass: $20 ($17.70 + tax) per ATV/Side x Side (Purchase at Vendor or Club website store or from a Club President or Membership Director).
b. 3 Day Pass: $50 (44.25 + tax) per ATV/Side x Side (Purchase Online from OFATV or from a Club President or Membership Director).
c. 1 Year Pass/Membership: $150 ($132.74 + tax) (Purchase at a Vendor, Online from OFATV or from Club website store or from a Club President or Membership Director).
d. Family Memberships: $50 off third and subsequent ATV/Side x Side. (Contact the Club to purchase).
Local Vendors where certain Passes/Memberships can be purchased
Drummond's Gas Bar (Spencerville) (Sun 7 am – 10pm, Mon – Sat 5:30am – 11pm)
Crossings Road & Trail (Prescott) (Sun Closed, Sat 8am – noon, Mon – Fri 8am – 5:00pm)
17 Acre Travel Centre and Restaurant (AKA Angelo's) Esso Gas station (Johnstown) (Mon – Sun, 5am – 11pm)
Greenham's General Store & Supply (North Augusta) (Sun 8am – 7pm, Sat 8am – 7pm, Mon – Fri 7am – 8pm)
To purchase from Club President, contact President Pat Marceau by email info@johnstownatvclub.org or by telephone 705-443-2412